Photographer : Josui Yasuda
Hair & Make-up Artist : Eri Matsumura
Model : Dorothy(alpha management)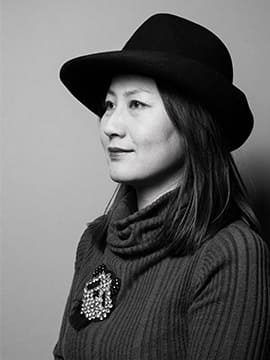 Theme
 テーマ
蓮池と月光
Lotus pond and moonlight

---
Concept
 コンセプト
蓮池の人工風景と月光の自然風景が我々の生活環境に美しい異なる景色として存在する。
人間、蓮池、月の違う立場から見ると違う景色、感覚がある。
その空間の風景が独立しても、融合しても異なる美しい。
風景を通じて相互性、相対性の哲学思想が表現されている。
これをインスピレーションとして、ファッションを通じてその風景の美しさ、幸せを表現する。

---
The artificial landscape with a lotus pond and the natural scenery with the moonlight exist as beautiful views in our living environment.
The world, or such landscapes can be seen and sensed differently from different viewpoints; from human viewpoints, from the lotus pond or the moon.
Through landscapes, interactive elements and relativity of philosophy are shown.
Getting inspirations from this, I express the beauty of landscapes and happiness by means of fashion.

---
Education
 学歴
2010:
桜花学園大学 卒業
2018:
文化ファッション大学院大学 卒業見込み
---
2018:
Bunka Fashion Graduate University
2010:
Okagakuen Univessity
---
Contests
 賞歴
2016:
フジテレビ スペシャルドラマ コンペ 一次審査通過
---
2016:
Special Drama Competition sponsored by Fuji Television Network, Inc. Nominated
---
Qualifications
 資格
2010:
日本語能力検定 1級 
---
2010:
Japanese Proficiency Test N1